1 EEK! it's another ECC
The most recent issue of Sweet & Maxwell's bimonthly
law report series
, the
European Commercial Cases
, contains another delightful sprinkling of intellectual property cases. Apart from the marathon decision of Pumfrey J in
Navitaire v easyJet and BulletProof
on software copyright and database right infringement there are also two French copyright cases, lovingly translated into English:
* France 2 SA v Fabris, in which the Cour de Cassation upheld the decision of the Cour d'appel de Paris that there was no "fair use" defence that justified the broadcasting of stills of Maurice Utrillo's paintings when broadcasting news of an exhibition at which they were displayed;

* Hotel de Girancourt v SCIR Normandie, another Cour de Cassation decision in which that court affirmed that the owner of an item (in this case the frontage of a historic building) had no exclusive right to control the taking of photographs of it.
2 Petit point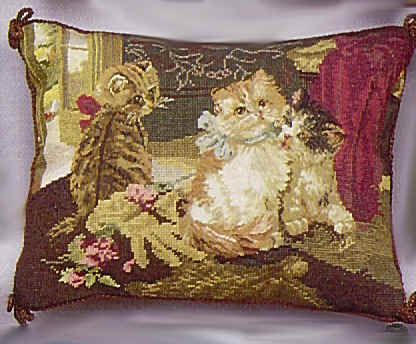 The IPKat's friend and fellow blogger (
here
and
here
) C. E. Petit must have had the needle to the Kat's Sunday blog ("A duty of Carey") because he has taken it to task:
"I'm afraid you just weren't adventurous enough on the "exam question". [He then adds the following questions ...]

(ix) If Eminem behaves identically at a show in Manchester, may Carey sue in a UK court? Under UK law?

(x) For purposes of this question only, assume that Carey was a British citizen and that the calls were placed from London to Eminem in the US.

Which court(s) have jurisdiction? If UK courts have jurisdiction, which law may or must they use? If US courts have jurisdiction, which law may or must they use?

(xi) In the absence of copyright issues, might Eminem's behaviour violate:

(a) Carey's rights of publicity?
(b) Carey's rights of privacy?
(c) Carey's trade mark rights?
(d) Carey's moral rights in an audio performance?

Answer each subpart under UK law, US (California) law, and US (Michigan) law.

(xii) Describe the proper remedies that Ms Carey may claim under US law.

Although inventive alternatives, such as forcing Eminem to listen non-stop to Celine Dion recordings for thirty days straight, might be more "just", restrict yourself to remedies available under intellectual property law.
The IPKat should like to dissociate himself from any suggestion regarding having to listen to Celine Dion recordings for thirty days straight which, he believes, is
contrary to the provisions of the US constitution
.
3 State secrets?
Part 9 of the UK's Enterprise Act 2002 governs the release of information by public authorities.
Today
the Department of Trade and Industry published a consultation document relating to proposed amendments. At present, public authorities cannot release information (for example product test results and company addresses) for the purpose of private civil proceedings.
Consumer groups and intellectual property rights holders have both voiced concerns that public authorities are unable to release this information to consumers who have been injured by an unsafe products, or to businesses whose IP rights have been infringed and who wish to take action against rogue traders in the Civil Courts.
The Government's options include the following:
* keep the law unchanged and do nothing;

* amend Part 9 to allow the release of information for the purpose of private civil proceedings only in certain deserving cases or

* amend Part 9 to allow the release of information for the purposes of private civil proceedings in all cases.
The closing date for making your comments is
Friday 18 November 2005
.
Full text of consultation document
here
More on the Enterprise Act
here
Starship Enterprise
here
How the government can make its mind up
here
,
here
and
here
TUESDAY'S TOPICS
Reviewed by
Jeremy
on
Tuesday, August 23, 2005
Rating: