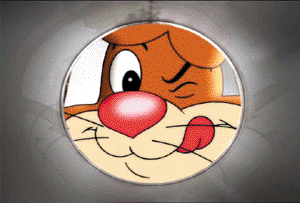 Not so Quick-ly…

The IPKat's mate, Tibor Gold writes:
I don't think the paras you picked out are all the essential ones…
In very telegrammese shorthand:
Appeal rejected, Opp Div + BoA upheld.
There is incontestable verbal similarity between the word components and that is more important than the drawing of the rabbit, partly because drawings of jovial cartoon characters of animals are common in the catering trade, size-wise, too, QUICKY is significant and non-negligible.
There is great phonetic similarity. Regard must be had to oral use (telephone order)
Conceptually one cannot exclude that francophones of FR + BX have sufficient knowledge of English to understand 'quick' and from there to 'quicky' but in any case the phonetic similarity cannot 'neutralise' (newspeak for outweighed by) the conceptual differences.
Given a quasi-identity of the goods, the visual similarity and the phonetic quasi-identity the BoA was entitled to find a risk of confusion, enhanced by the usage of the 'alimentary sector' of distinguishing its various lines by using sub-brands which is how the later mark could be perceived by the targeted public
The IPKat, duly chastened, says thanks Tibor!
From rabbits to donkeys
eDonkey to be precise.
Estelle Derclaye
has informed the IPKat that a joint operation by Swiss and Belgian police has shut down the Razorback2 server, which is used by a third of the users of the eDonkey P2P website. The server contained 170million pirated files and was one the largest of approximately 200 index servers on the eDonkey file-sharing network. The owner of the server has been arrested and the computers used for it have been seized.
The IPKat can't help but be pragmatic about this. By now those who create unauthorised P2P networks have got to know what's coming to them. He's rather interested though by the prospect of fake servers, allegedly created by RIAA, in order to trap downloaders – see the discussion among eDonkey users
here
.
BBC coverage
here
More on eDonkey
here
ANIMAL CRACKERS
Reviewed by
Unknown
on
Thursday, February 23, 2006
Rating: